Bought a new copy of GoodFood magazine, so decided I have to try some recipes there otherwise I'm just buying and buying magazine without ever doing anything about it. Hmm then what to try?? Christmas food?? Still way too early…but wait there was this Thai Food set menu for exotic (read: different) christmas dinner. It was a nice Thai food with a new twist.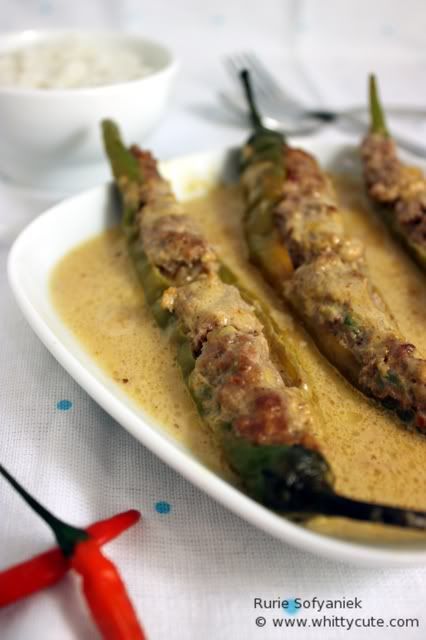 Serves 3-4 persons
Ingredients:
– 175gr raw prawns, minced (I didn't use this)
– 85gr water chestnut (I didn't use this)
– 450gr pork mince (I used beef mince)
– 2 tsp fish sauce
– 5 tsp shaohsing wine (dry sherry)
– 2 tsp sesame oil
– 2 tbsp grated fresh root ginger
– 1 spring onion, finely chopped
– 16 long mild green chillies (if you can't find them, use red and yellow Romano peppers, quartered) (I used 8 long mild green chillies)
For the sauce:
– 2 tbsp vegetable oil
– 1 tbsp red curry paste (I used 2 tbsp)
– 1 tbsp palm sugar
– 1 tbsp fish sauce
– 400g (1 can) coconut milk
– 100ml water
Directions:
– Mix all the ingredients except the chillies to a loose paste. Slit open the chillies, take the seeds out using a teaspoon, then fill the centres with the mix. Pack it tightly and seal each one with a toothpick.
– Make the sauce: heat the oil and add the curry paste. Reduce the heat and fry the paste gently until fragrant, about 2 mins. Add the sugar and the fish sauce, then increase the heat andd cook for 5 mins, stirring all the time. Add the coconut milk and bring to the boil, then add 100ml water and stir well.
– Drop in the stuffed chillies and reduce the heat to a simmer. Cover and cook for 10mins. (I cooked more than 10 mins to assure the coconut milk and the spices get through the chillies). Take from the heat and serve.
Source: BBC GoodFood Magazine, UK Edition, December 2008