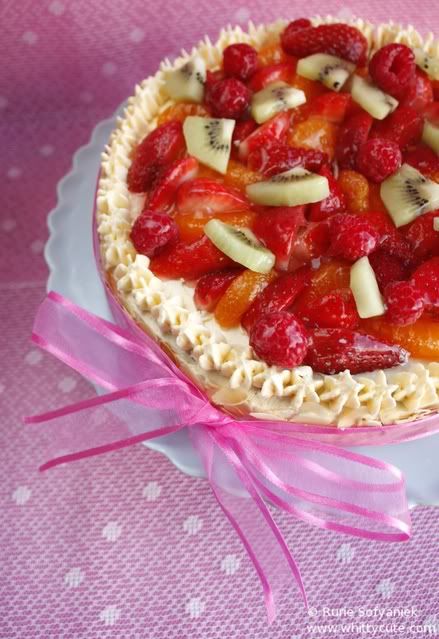 I didn't make this specially for Valentine's tomorrow but since it's tomorrow's event so why not. I actually made this to practice again about cake making. This was just a simple sponge cake with buttercream and fruit. And actually it was a "nekat" project since I didn't have lazy susan nor spatula. I used the cake stand as lazy susan and big long knife as spatula.
After asking here and there about good sponge cake recipe I followed Rita's advice by using Yongki Gunawan's sponge cake recipe, because she said it's the best and she was so right. The sponge cake was soft, bouncy, light just everything I wanted from a sponge cake. Then came the buttercream…tricky part number one was that people here don't really like the taste of buttercream, they only like whipped cream but whipped cream is difficult to work with. Number two there's no shortening sold here eventhough I did find one (in one and only TBK) in Rotterdam (or possibly Holland). But it was imported from USA therefore it was so expensive 5E/can 🙁 Then there's also ready made buttercream frosting with nice taste but again it was from USA and also 5E/can. It was Duncan Hynes brand and the bules liked the tasted of that thing (I tried frosting with this before) What should I do then to make a nice tasting buttercream but still stiff enough to work with? Just keep on reading.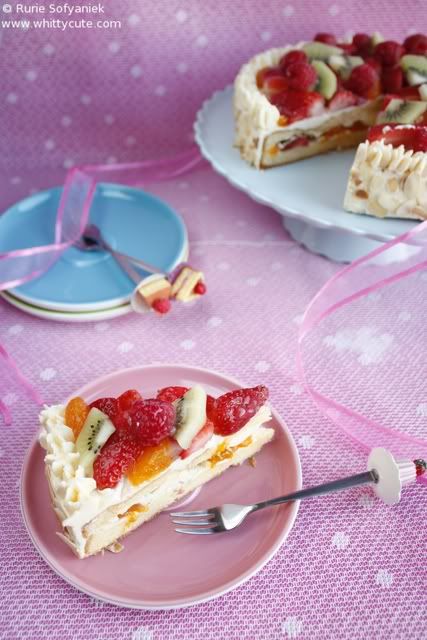 Yongki Gunawan's Sponge Cake
(This is half recipe only)
Ingredients:
– 5 egg yolk
– 2.5 egg white
– 5 gr emulsifier (I used TBM)
– 75gr sugar
– 50gr cake flour shifted
– 1/2 tbs powdered milk (I omitted this)
– 1/2 tbs cornstarch
– 75gr butter
– 1/2 tbs condensed milk (I omitted this)
Directions:
– Preheat oven to 180C, grease and flour a round or square cake tin.
– Melt butter in a saucepan.
– Whisk eggs, sugar, emulsifier, flour, cornstarch until thick, white and fluffy. (Only do this if your electric mixer is strong enough. If not then first whisk eggs and sugar until just thick add emulsifier continue whisking until it's thick, white and fluffy. Add flour, cornstarch, powdered milk).
– Add butter and mix well.
– Pour in the cake tin and bake for 25-30 minutes or until a tooth pick inserted comes out clean.
Simple syrup:
– 1/4 cup water
– 1/4 sugar
– Some drops rum (if you like)
– Mix water and sugar in a saucepan, heat in a low fire while keep stirring it.
– When it's just bubbling take it from the fire.
– Add rum.
Buttercream:
– 150gr unsalted margarine
– 50gr unsalted butter
– 2 cups confectioner sugar
– 100ml low fat cream (verse geslagen room)
– 1 tsp vanilla extract
– 1 tsp rum (if you like)
– Some drops Wilton white white icing colors
– Whisk everything in a electric mixer until fluffy and light (mine was 30 minutes or so).
Fruit:
– 1 can mandarin orange
– 100gr strawberry
– 1 kiwi
– 100gr raspberry
– Drain mandarin orange.
– Clean strawberry and cut into 4.
– Peel kiwi and sliced.
– Wash raspberry.
Garnish:
– Toasted almond slices
Finishing:
– Divide sponge cake into two parts.
– Brush each side with simple syrup, reserve a little bit of syrup for the top
part of the cake.
– Spread some buttercream on both sides of the cake.
– Arrange 1/3 fruits in the middle cake.
– Lift the top part and close the cake.
– Brush the top part cake with the rest of the simple syrup.
– Spread buttercream all over the cake's surface, reserve some for decoration.
– Using pastry bag and decorating tips, decorate the outer top of the cake. I used Wilton 1M and made stars (boy it was 1AM and my mind was stuck :P)
– Arrange fruits on top and almond slices on the side of the cake.
Sponge Cake Source: Yongki Gunawan
Others: Me
I dedicated this cake to all of my friends out there, you know who you are 🙂 Happy Valentine's Day!
PS: Don't forget to participate in my foodie event 😀