When I make pasta I always remember my fellow foodie blogger, Deetha because she is a big pasta fan. But she said it's not easy to find many shapes of pasta in Indonesia as well as the other pasta related ingredients ie: cheese, herbs etc. So I dedicated this post to her. Enjoy Deeth 🙂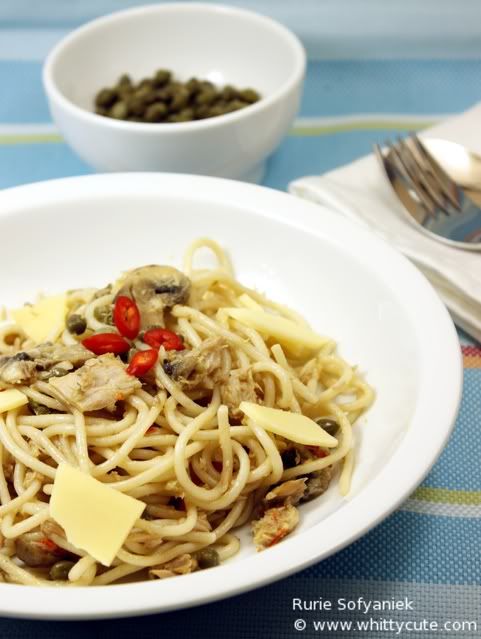 For 2 persons
Ingredients:
– 200 gr dry pasta cooked according to package
– Handful champignon mushroom, sliced
– 1 small tin tuna in water, drained
– 2 tbs capers
– 2 garlic mashed
– 1/2 chili sliced
– Salt
– Pepper
– Dried Italian herbs (oregano, basil, thyme)
– Olive oil
– Flakes of Gouda cheese
Directions:
– Heat up olive oil in a pan, when it's hot add garlic and chili.
– Stir until garlic and chili are fragrant, add mushroom.
– When mushroom looks soft, add tuna, salt, pepper, herbs.
– Toss in the capers, spaghetti and more olive oil as you desire.
– Serve with flaked Gouda cheese.
Source: Me