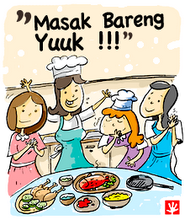 People, is it tom yum kung or tom yum goong? I need some "pencerahan". Because when I ask "mbah" Google, both those two names showed up.
This month's theme for masbar is tom yum kung, one soup dish from Thailand. Nowadays Thai food can be considered as equally famous as other famous Asian cuisine; Chinese and Indian food. When will Indonesian food can be as famous as them?

I was too lazy to google for other recipe so when Deetha said she had one, I immediately copied that…hehe. With some modification as I didn't have some of the ingredients listed.
So here we go.
For 2 persons
Ingredients:
– 600 ml water
– 100 g shrimps/prawns, shelled, and deveined
– 2 garlic cloves, minced
– 3 kaffir lime leaves (bai-ma-krut)
– 3 thin slices fresh or dried galangal (kha)
– ¼ cup fish sauce (nam pla)
– 2 stalks lemon glass/cironella (ta-khrai), lower 1/3 portion only, cut into 1-in (2,3 cm) lengths
– 2 green onions, sliced
– 5 hot green Thai chilli peppers (phrik khi nu), optional
– ½ cup sliced shitakee mushrooms
– 60 ml lime juice
– 1 tablespoon chopped cilantro/coriander leaves (bai phak chi)
Directions:
– Bring the stock to a boil over medium heat.
– Add the garlic, lime leaves, galangal, fish sauce, lemon grass, and shallots, then the mushrooms and chili peppers, if using.
– Simmer for 2 minutes.
– Add the shrimp and reheat to boiling.
– Cook until the shrimps are pink, opaque, and firm but no longer than 1 minute.
– When the shrimps are cooked, place the lime juice and chili paste in a serving bowl.
– Pour the soup into the bowl, stir, and garnish with cilantro leaves.
Source: Adapted from book Amazing Tastes of Thailand through Deetha
PS: Don't forget to participate in my foodie event 😀