This is real easy Indian dish, the original calls for chicken but I didn't have it so what the heck, I substitute it with fish.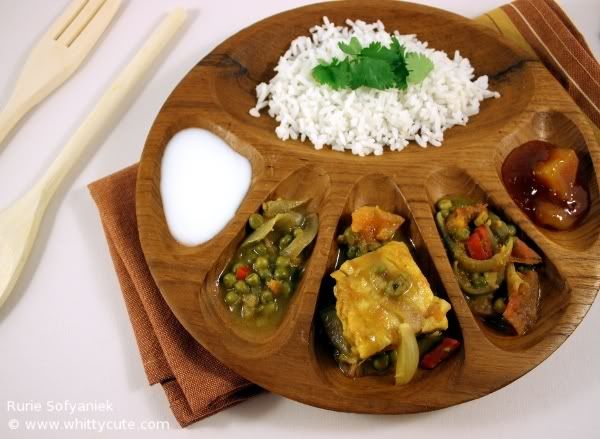 For 3-4 persons
Ingredients:
– 250gr white fish fillet
– A handful of green peas
– 3 tbs oil
– 1 small onion chopped
– 1 stick cinnamon
– 1/2 tsp ground cardamom
– 1 tsp fennel seed
– 2 cm ginger very finely chopped
– Pinch of cloves
– 2 garlic crushed
– 1 tsp turmeric
– 1 tsp ground coriander
– 1 tsp ground cumin
– 1 tsp chili powder
– 1 tomato chopped
– Hot water
– A handful of coriander leaves chopped
– Plain yoghurt (optiononal)
– Mango chutney (optional)
Directions:
– Heat the oil in a large heavy pan, add the chopped onion and stir for a minute with the heat on high. Turn the heat to low, add the cinnamon, cardamom, cloves, cumin, and fennel seeds, stir for 5 minutes. Add the ginger and garlic and cook for another 5 minutes on low, stirring occasionally. Then add the turmeric, ground coriander and chilli powder and fry gently for a minute. Add enough hot water to make a sauce. Bring to the boil and simmer, stirring occasionally for 20 minutes. Season with salt.
– Add fish and chopped tomato to the sauce and simmer gently for 10 minutes until the fish is cooked, stirring from time to time.
– Sprinkle with the coriander leaves and serve with plain rice, plain yoghurt and mango chutney.
Source: Adapted from BBC GoodFood