his one is really easy and one of my favorite (ok I admit I eat chicken in any way 😉 )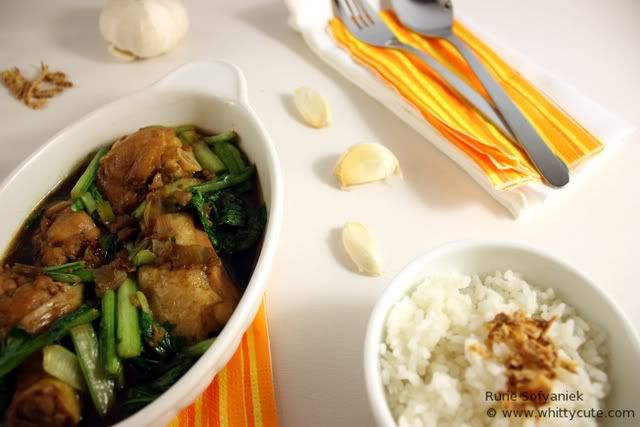 Ingredients:
– 500gr chicken pieces
– 1 bunch of sawi hijau (coy sum)
– 4 garlic mashed
– 2 spring onion sliced
– 1 tbs fish sauce
– 2 tbs sweet soy sauce
– 1 tbs soy sauce
– 1 tbs oyster sauce
– tiny bit of salt (because the fish sauce is already salty)
– 1/2 tsp pepper
– 50ml water
– 2 tbs vegetable oil
Directions:
– Heat up oil in a wok, add garlic, fry until garlic is fragrant.
– Add chicken pieces and all the rest of ingredients except the coy sum.
– Cook for 15 minutes until chicken is done and water has evaporated.
– Add coy sum, stir quickly and serve immediately.
Source : Me