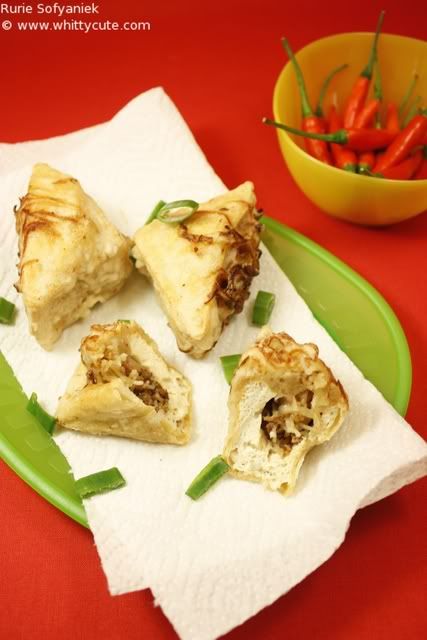 I just found out that tofu in Rotterdam is 50% cheaper than in Gouda. Not that is a significant amount….50cent…lol but still…Anyway it would be easier to use puff tofu with hole inside, but I only had normal one so here we go.
Ingredients:
– 1 block of tofu diagonally cut and deep fried, make hole manually with spoon, set aside the mashed tofu (mine yielded 8 pieces)
– 50gr rice vermicelli prepared according to package
– 50gr carrot cut into matchstick
– 50gr minced beef
– 50gr bean sprout
– 2 spring onions sliced
– 3 garlic minced
– 2 shallots minced
– Pepper
– Salt
– Oil for deep frying
Batter for the Tofu:
– 1/2 cup rice flour
– Salt
– Pepper
– Water
Directions;
– Heat little bit oil in a pan, add shallot and garlic when the oil is hot.
– Add carrot stir until carrot is wilted.
– Add the rest of ingredients and stir thoroughly.
– Adjust seasoning to your liking.
– Fill the tofu with the filling.
– Mix all batter ingredients.
– Heat oil for deep frying in a pan.
– Dip tofu one by one in batter mixture.
– Deep fry until golden brown.
– Eat warm with bird's eye chili or sambal sauce.
Source: Me
PS: Don't forget to participate in my foodie event 😀