The other day I was drooling over Mira's lasagna. It's been a while since I made one. I decided to make one but then I put lots more vegetable in my lasagna since I have to increase my vegetable intake but I didn't want to make other vegetable dish to accompany the lasagna (read: lazy).
Mira, ini aku jawab tantanganmu di MP 😀 My lasagna was also not real lasagna since I didn't use only meat sauce and I didn't use mozzarella cheese but instead Gouda cheese from Gouda 😉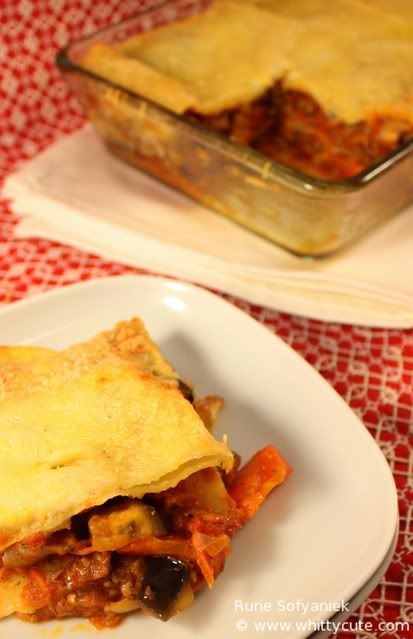 For 4 persons
Ingredients:
– Half box no pre cook lasagna
– Shredded Gouda Cheese (belegen 30/40+)
– 1/2 recipe of bolognese sauce
– 1 recipe bechamel sauce
– 1 aubergine, diced
– 1 paprika, diced
– 50gr champignon mushroom sliced
– 1 carrot diced
– Some olive oil
Bechamel Sauce:
– 40gr butter
– 425ml milk
– 20gr flour
– salt
– black pepper
– nutmeg
– Melt butter in a pan, add flour, whisk quickly until smooth and thick, let it bubble a bit.
– Add milk little by little, stir throughly, bring it to boil, lower the heat.
– Add the rest of ingredients, continue stirring for 2 minutes, remove from the heat.
Directions:
– Heat up the oven at 180Celcius,meanwhile the oven is heating up, heat up little bit of olive oil in a pan, add all the vegetables.
– When the vegetables look wilted, add the bolognese sauce. Continue stirring until the sauce is done.
– In an oven proof dish, layer the lasagna – vegetable bolognese sauce – bechamel sauce – shredded cheese. Repeat until the top of the dish. Cover loosely with aluminium foil.
– Bake in the oven for 30 minutes, then remove the aluminium foil and continue baking for 5-10 minutes.
Source : Me