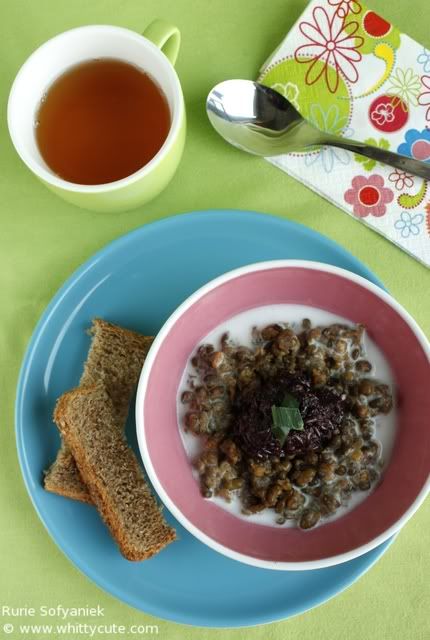 I made this one like years ago….lebay-mode-on. But haven't post it here. It's real good to eat in this still-winter weather.
I also submitted this dish for MFM2 Maret 2009 with Warna Warni theme.
For 4 persons
Ingredients:
Mung Beans Porridge:
– 1/2 cup mung beans soaked in water for 1-2 hours
– 1 cm ginger, bruised
– 1 pandan leaf
– 3 tbs Indonesian palm sugar
– Pinch of salt
– Water
Glutinous Black Rice Porridge:
– 1/2 cup glutinous black rice soaked in water overnight
– 1 pandan leaf
– Pinch of salt
– Water
Coconut milk sauce:
– 1 can coconut milk (400ml)
– 1 pandan leaf
– Pinch of salt
Optional:
– Some slices of bread
Directions:
– Cook mung beans in water along with ginger, pandan leaf and salt.
– Stir frequently until mung beans are soft.
– Add Indonesian palm sugar (only add this when you are sure that mung beans are soft otherwise it would be difficult for them to get soft)
– At the same time cook also the glutinous black rice with pandan leaf and salt. Stir frequently until it's soft.
– Warm the coconut milk in low fire with pandan leaf. Carefully stir so not to make the coconut milk separated.
– Serve the porridge in a bowl alongside with some slices of bread (optional).
Source: Me