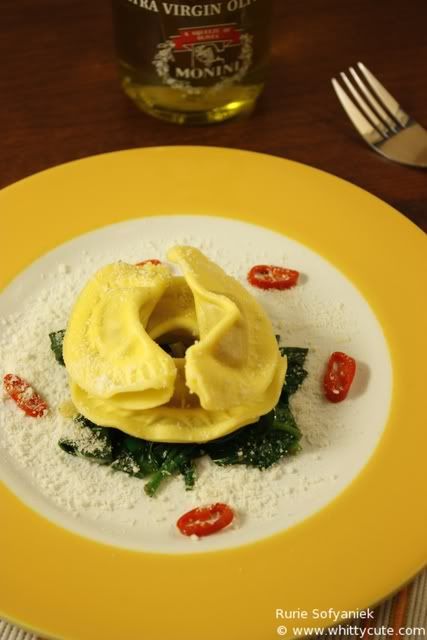 I think from now on I dedicated all my Italian food post to Deetha since she is a big fan of Italian food 😉
I bought one package of fresh pasta at the supermarket just because I was curious with it's shape. But strangely the package didn't say what kind of pasta it was. I consulted my ingredients dictionary and there it said that this was aglonotti. Never heard that one before but anyhow it was tasty 🙂 with ricotta filling.
For 2 persons:
– 1 package aglonotti
– 1/2 red chili sliced
– 1 garlic sliced
– Bunch of fresh spinach
– Some olive oil
– Salt
– Pepper
– Parmesan cheese
Directions:
– Cook pasta according to package's direction.
– Meanwhile heat olive oil in a pan, add garlic and chili fry until fragrant.
– Add spinach, salt and pepper, stir until spinach is slightly wilted.
– Serve pasta with spinach.
– Top with parmesan cheese.
Source: Me