If I freely translated this dish name's into English, then it would be "Smashed Tofu" :p Yeah I have to admit I'm no good in translating food title. But if I try to describe it then it would be fried tofu crushed with sambal….hmm and nothing beats this with steamed white rice…and you have to use your hand when eating this 😉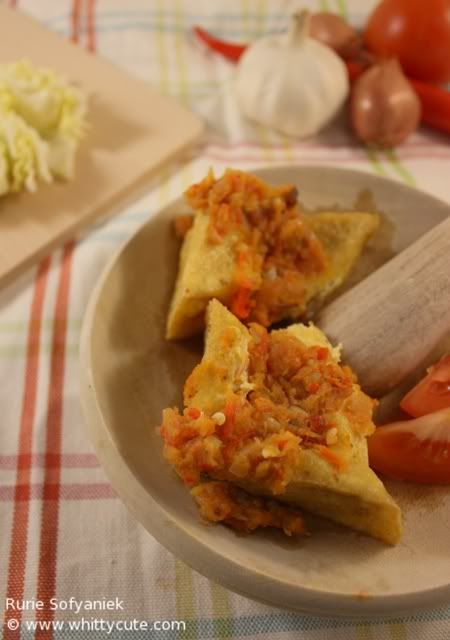 Serve: 2 persons
Ingredients:
For the tofu
– 1 block of tofu cut as you like
– 1/2 tsp ground coriander
– 2 garlic mashed
– 1/2 tsp salt
– Some water
– Oil for frying
Directions:
– Put the water in a bowl, add ground coriander, garlic, salt.
– Add tofu and marinade for some time.
– Heat up the oil in a pan, fry tofu until golden brown.
Ingredients:
For the sambal
– 3 shallots
– 2 garlic
– 1 red chili cut
– 3 bird's eye chili (more or less depending on your taste buds)
– 1 tomato cut
– 1/2 tsp salt
– 1/2 tsp sugar
– 1/2 tsp toasted terasi (shrimp paste)
– Little bit of oil
Directions:
– Fry the oil in a pan, when it's hot add shallots, garlic, red chili, bird's eye chili and tomato.
– Fry until they are a little bit dry.
– Grind them with the rest of the ingredients in a pestle and mortar.
– Crush the fried tofu with the sambal.
Source: Adapted from my mother