First of all I would like to dedicate this post to the loving memory of my two late mbah (grandmothers). Why?
The first mbah was my father's mother, she was a rawon seller in a small alley in Tembok Gede, Surabaya. If you live in Surabaya you may know this place. I remember vividly when I was small sitting in the warung bench, eating her wholesome rawon with salted duck egg and shrimp cracker. She died when I was 10 years old.
The second mbah was not really my real mbah but just an elderly relative but because I didn't have mbah who lived close by (in Bali) so I called her mbah too. She was a bean sprout seller. I still clearly remember her waking up at 3am to sell her bean sprouts at the market then came back at 10am to water the mung bean manually from the water well, every single day. She died when I was 12 years old.
Mbah, may you rest in peace and Allah forgive all your mistakes. Ameen.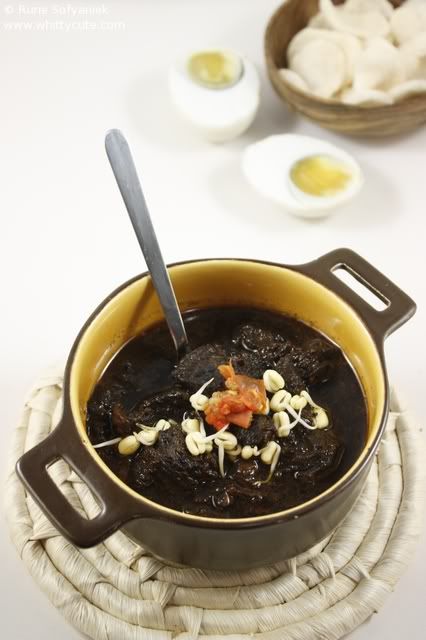 For 4 persons:
Ingredients:
– 500gr beef brisket cubed
– 6 shallots
– 4 garlic
– 2 cm turmeric
– 2 red chilies
– 1 tbs coriander
– 8 pcs kluwak nut
– 2 lemongrass bruised
– 6 lime leaves
– 2 cm ginger bruised
– Salt
– Some oil
For Sambal Terasi:
– 1 red chili
– 4 bird's eye chili (more or less according to your taste buds)
– 1 small tomato
– 1/2 tsp terasi (dried shrimp paste)
– Salt
– Boil red chili, bird's eye chili, tomato.
– Grind all ingredients using pestle and mortar until smooth.
Condiments:
– Steamed rice
– 2 salted duck egg
– Short bean sprout (it's not available here so I made it myself, soak some mung bean in water overnight. The next day drain the water and put them in a strainer. Water it 2-3 times a day then after 2-3 days they will grow nicely 🙂 )
– Shrimp crackers
– Sambal terasi
Directions:
– Grind red chili, shallots, garlic, turmeric, coriander, kluwak with a pestle and mortar or if you are lazy like me in a food processor 😀
– Heat up some oil in a skillet and add the spice paste, keep stirring until the spice is fragrant, add lemongrass, lime leaves and ginger.
– Add cubed meat and continue stirring until meat turns color.
– Meanwhile boil some water in a pan (approx 3 litre). Add meat and spice mixture into the boiling water. Continue cooking in low fire until meat is tender. Adjust salt as you like.
– Actually it taste even better the next day 😀
– Serve warm with all the condiments.
Source: My father