Some photos and recipes from my and also my friend Eni birthday brunch.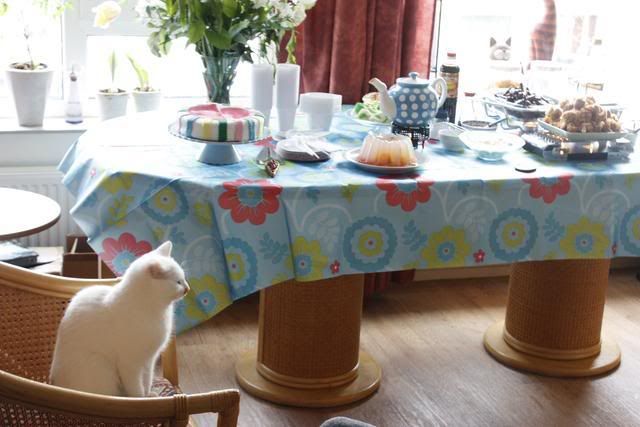 Whitty the cat guarding (or rather eyeing 😛 ) the food. There were some food that I cooked for the brunch. The day before I made the chicken feet and the chicken topping for the mie ayam (chicken noodle). Then me, Iin and Frisda made the cakes, fruit punch, fried wantan, sambal, boiled quail eggs, pickle etc. On the day Eni brought lumpia (spring roll) and Thata brought steamed brownies (I'm sorry Tha I forgot to take picture of your yummy moist brownies…mau lagi donk buat dipoto 😀 )
Some of the party goers 😛 from l to r; Eni, Olivia, Hesti, Thata, Iin, Frisda and me sitting on the floor. Ohya ini sekalian kopdar ama Thata…and she immediately got new nickname 😛 "mbak 18thn" because she looked boy oh so young despite her real 2* (censored) age. 😛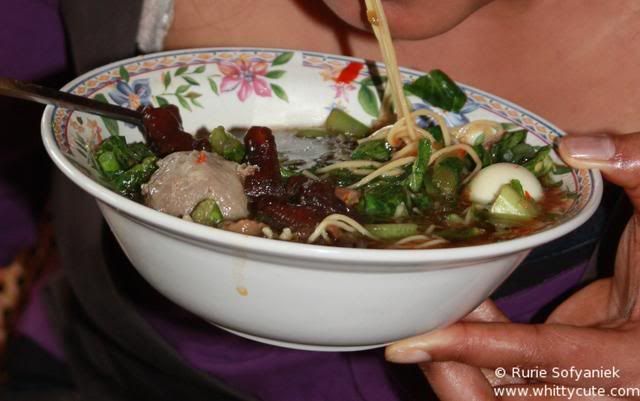 For this mie ayam (chicken noodle) recipe just follow here.
For this pangsit goreng (fried wantan) recipe just follow here.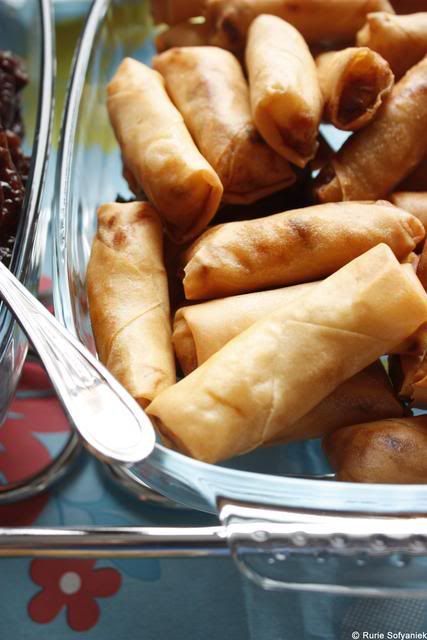 This one is from Eni and here is her recipe
Lumpia Ayam Bihun Sayuran (Vegetable Rice Vermicelli Chicken Spring Roll)
Ingredients:
– Mini lumpia skin
– 1/2 package of mixed vegetable (spring onion, white cabbage, carrot, bean sprout)
– 100 gr rice vermicelli soaked in hot water
– 350 gr chicken breast minced
– 1/2 tbs coriander powder
– 3 garlic mashed
– 1 tbs oyster sauce
– 1 tbs gember siroop (you can use 2cm ginger bruised)
– Salt
– Pepper
– 1 white egg
– Oil for deep frying
Directions:
– Heat oil in a pan, add garlic and stir until fragrant.
– Add minced chicken, stir until turns color.
– Add mixed vegetable and stir until vegetable is wilted.
– Add coriander, oyster sauce, gember siroop (ginger), salt and pepper.
– Heat through until all ingredients are cooked, turn off fire.
– Assemble the lumpia and use the egg white to seal the lumpia.
– Deep fry in hot oil until golden brown.
– Serve with lumpia sauce.
Source: Eni
Ceker Ayam Kecap (Chicken Feet in Sweet Soy Sauce)
The dish that we Indonesian said hurray…..and the Dutch said eeeew…How different culture also have different appreciation on food 😀
The method and recipe is basically the same with the mie ayam topping but first I deep fry the chicken feet until golden brown then soak them in cold ice water for overnight so they were nice and plump. Furthermore I added mushroom soy sauce.
This is again Yongki Sponge Cake 🙂 my favorite, but this time is one recipe. I ordered the edible print in Cake Print. Then with the help of Iin with rolling the fondant voila….a cake 🙂
Finally I got the chance to try the famous TCCC (Triple Choco Caramel Cake) by Teh Uceu. But I couldn't make it as pretty as hers…and somehow my cake was a bit dense like brownies. Is it suppose to be like that? But the taste was so good….I can still remember the chocolatey caramelly taste…oh forgive my weird vocabulary.
TCCC (Triple Choco Caramel Cake)
Ingredients:
Cake
– 10 eggs
– 150gr sugar (I used 80gr)
– 1 tbs emulsifier (tbm)
– 140 gr flour
– 60 gr cocoa powder
– 75 gr dark cooking chocolate (DCC), chopped
– 100 gr butter
Directions:
– Melt butter in a double boiler (or microwave), add DCC, mix well, set aside.
– Whisk eggs with sugar until half fluffy, add emulsifier and continue whisking until white and fluffy.
– Carefully add flour into the batter.
– Add the melted butter and DCC, mix well.
– Brush square or round baking pan with butter and sprinkle flour evenly.
– Pour batter in the baking pan and bake in a preheated oven of 170C until done.
Chocolate Ganache
– 500 ml fresh cream
– 500 g dark cooking chocolate (DCC), coarsely chopped
– 75 g butter
Directions:
– Heat fresh cream in a pan with low fire but do not let it to boil.
– Add DCC and butter, mix well.
– Put in the fridge for couple of hours until ready to be used.
Caramel syrup
– 100 gr sugar
– 50 ml water (1)
– 100 ml water (2)
Directions:
– Cook sugar with water (1) in a low fire until it turns into caramel.
– Add water (2) into the caramel mixture, continue cooking until caramel has melted and well mixed. Set aside.
Decorations:
– Canned or fresh fruit; kiwi, mandarin, strawberry etc.
– Clear jelly mixture to brush on top of the fruit.
Assemble:
– Sliced cake into two equal parts.
– Brush caramel syrup onto the surface of the cake.
– Spread some chocolate ganache on the centre surface (about 1 cm thickness), top with the other part of the cake.
– Spread the rest of the chocolate ganache evenly on the surface of the cake.
– Decorate as your desire with the fruits.
Source: Teh Uceu
Then after making sponge cake you would get lots of egg whites…it's time to make this one 🙂 made only from egg whites.
Kue Zebra Pandan Kukus (Steamed Zebra Pandan Cake)
Ingredients:
– 260 gr egg whites
– 1/4 tsp salt
– 1.5 tsp emulsifier (tbm)
– 50 ml water
– 125 gr sugar (I used 95gr)
– 125 gr cake flour
– 15 gr powdered milk
– 1/2 tsp baking powder
– 30 gr melted butter
– 1 tbs condensed milk
– 1/4 tsp vanilla essence
– 1/2 tsp pandan paste
Directions:
– Whisk egg whites, salt, emulsifier and water until half fluffy.
– Add sugar bit by bit while whisking until white and fluffy.
– Add flour, powdered milk and baking powder.
– Add melted butter, condensed milk, vanilla escence .
– Take 1/2 batter and add pandan paste, mix well.
– In one spot pour the batter alternately in a baking pan (I used 7 muffin mould).
– Steam in a preheated steamer for 15 minutes until done.
Tips:
– To yield a pretty zebra pattern, do pour the batter consistenly in one same spot.
Source: Book of Variasi Kue Lapis Sederhana Sampai yang Rumit – Sedap through Deetha.

And for the last one inspired from Deetha 🙂 it was real good, refreshing, highly recomended.
Fruit Punch
Ingredients:
– 1 can rambutan
– 1 can jack fruit
– 1 can young coconut
– 2 kiwis cut
– 1 box strawberry cut
– 2 cans mandarine
– 1 mango cut
– 1 tsp selasih seed, soak in hot water until it's fluffy
– 1.5 litre of white soda
– 1 litre of fresh orange juice
– Ice cube
Directions:
– Mix everything in a big bowl.
Tips: you can use all kinds of seasonal fruits.
Inspired by: Deetha